We have been running African drumming workshops for over a decade with hundreds of students enjoying the infectious rhythms of the djembe and dunun drums of West Africa.
African Drumming Workshop, Carlow
Thursday 24th February
Our first ever adult workshop in Carlow. I'm really looking forward to spread the joy of West African rhythms here.
We will be focusing on rhythms for the djembe drum of West Africa. No experience is necessary and all instruments are provided.
Location – Askea Parish Community Centre, Brownshill Road, Askea, Carlow
Time – 7 – 8.30pm
Cost – 15e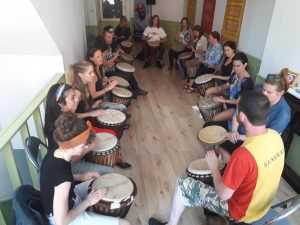 Djembe! West African drumming workshop
Sunday February 27th, 2022
This is an adult open level workshop, suitable for beginners.
Exploring the the djembe drum and rhythms of Guinea, West Africa.
This is a large well ventilated indoor venue, where social distancing can be maintained.
All instruments provided
Time 2 – 6 pm
Cost 30euro per person
Max 15 people